Baby Girl Clothes in dubai
(Buy wholesale purchase of baby girl clothes from Dubai) Dressing your baby girl in adorable and comfortable clothes is an exciting part of parenthood. Selecting the right baby girl clothes involves considering factors such as comfort, safety, style, and the specific needs of your little one. This comprehensive guide aims to provide you with essential tips and considerations to help you choose unique and suitable clothes for your baby girl.
types of Baby Girl Clothes
Everyday Essentials
When it comes to everyday essentials, think about practicality and comfort. Look for items such as:
Bodysuits
Rompers
T-shirts
Leggings
Pants
Sweatshirts
Sweaters
These items can be easily mixed and matched to create a variety of outfits for your little one.
Sleepwear
Ensure your baby girl has a comfortable night's sleep with the right sleepwear. Consider purchasing:
Footed pajamas
One-piece sleepers
Nightgowns
Look for sleepwear made from soft, breathable materials to keep your baby cozy throughout the night.
Choosing the Right Size for Your Baby Girl
Selecting the correct size for your baby girl is essential for her comfort and safety. Most baby clothing brands use age ranges to indicate sizing, such as:
Preemie
Newborn
0-3 months
3-6 months
6-12 months
12-18 months
18-24 months
Keep in mind that sizing can vary between brands, so always refer to the specific size chart provided by the retailer. Additionally, consider your baby's growth and development when selecting sizes, as some babies may need larger or smaller clothing depending on their unique growth patterns.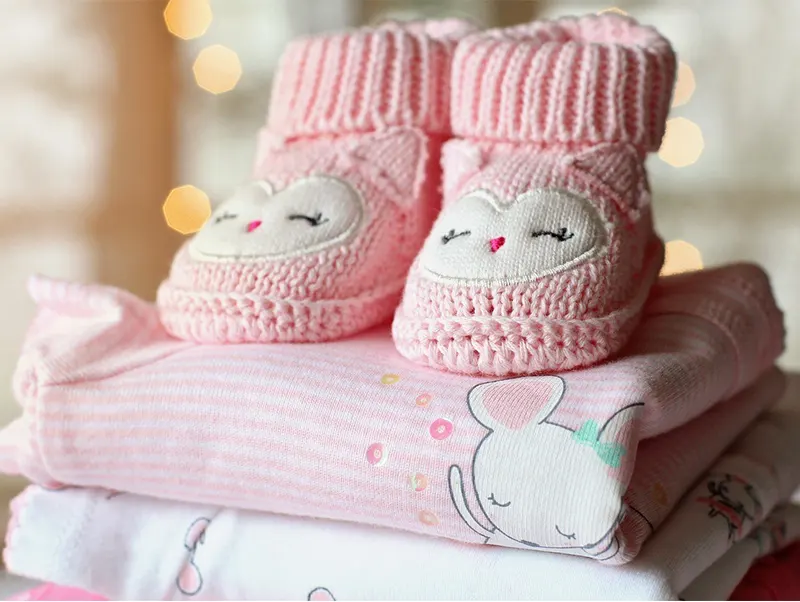 Prioritizing Comfort and Safety:
When it comes to dressing your baby girl, comfort and safety should be your top priorities. Here are some key points to consider:
Fabric selection: Opt for soft and breathable fabrics, such as cotton, to ensure your baby's comfort. Avoid materials that may cause irritation or allergies.
Proper sizing: Choose clothes that fit well and allow for unrestricted movement. Avoid garments that are too tight or have excessive embellishments that may cause discomfort.
Consider season and weather: Dress your baby girl appropriately for the season and weather conditions. Layering clothes can be a practical approach to adjust to varying temperatures.
Pay attention to labels and certifications: Look for clothes that are certified as safe and free from harmful substances. Check for labels such as Oeko-Tex Standard 100, which ensures the fabric's safety.
Style and Appeal
While prioritizing comfort, there's no reason why your baby girl can't look stylish and adorable. Consider the following aspects:
Color and patterns: Choose colors and patterns that complement your baby girl's complexion and bring out her charm. Bright, cheerful colors and open patterns often work well for infants.
Versatility: Opt for clothes that offer versatility, allowing you to mix and match different pieces to create various outfits. For example, choose tops that can be paired with different bottoms.
Attention to details: Details such as floral accents, rainbow trims, bows, and similar decorations can enhance the overall appeal of baby girl clothes. Ensure that these details are securely attached and pose no safety hazards.
Proper Sizing and Fit
Achieving the right fit for baby girl clothes is crucial for both comfort and style. Consider the following:
Accurate measurements: Before purchasing clothes, measure your baby girl's height, weight, and body proportions. Refer to the brand's size chart to ensure proper sizing.
Allow room for growth: Babies grow quickly, so consider buying clothes with a bit of extra room to accommodate growth spurts.
Try before buying: If possible, try the clothes on your baby girl to ensure they fit well. Keep in mind that sizing may vary among different brands.
Cleanliness and Maintenance
Maintaining cleanliness and ensuring easy care for baby girl clothes are essential. Consider the following factors:
Washability: Choose children clothes that are easy to wash and can withstand repeated laundering without losing their quality. Fabrics such as cotton are often the best choice.
Label instructions: Pay attention to care labels and follow the recommended washing instructions, including water temperature and specific care guidelines.
Skin sensitivities: If your baby girl has sensitive skin, opt for clothes made from soft, hypoallergenic materials and avoid harsh detergents or fabric softeners.
Sustainable and Organic Options
Consider eco-friendly and organic baby girl clothes. These options are made from natural materials, such as organic cotton or bamboo, which are grown without the use of harmful chemicals. They are better for the environment and gentle on your baby's skin.
Look for certifications like GOTS (Global Organic Textile Standard) or OCS (Organic Content Standard) to ensure that the clothes meet specific organic standards.
Special Occasion Outfits
For special events or occasions, choose dressier outfits for your baby girl. This can include dresses, tutus, or formal rompers with elegant details like lace, tulle, or embroidery. Consider the level of comfort in these outfits and ensure that they don't have any scratchy or restrictive elements that might cause discomfort to your baby girl.
Practical Considerations
Easy access for diaper changes: Look for clothes with snap closures at the bottom or elasticized waistbands to simplify diaper changes without having to fully undress your baby.
Weather-appropriate layers: Consider adding layers to your baby girl's outfit, such as cardigans, jackets, or sweaters, to adjust to changing weather conditions. Opt for breathable and lightweight options for warmer months and thicker fabrics for colder seasons.
Footwear choices: When it comes to shoes, prioritize comfort and flexibility. Soft-soled shoes or booties are ideal for babies who are learning to walk, as they allow for natural foot movement and development.
Budget-Friendly Options
Babies grow quickly, so consider budget-friendly options like second-hand or gently used baby girl clothes. Look for local thrift stores, online marketplaces, or swap events where you can find affordable and well-maintained items. Take advantage of sales, discounts, and clearance sections in stores to stretch your budget further.
Consider creating a capsule wardrobe for your baby girl, focusing on versatile essentials that can be mixed and matched to create various outfits.
Dressing for Different Seasons
Spring: Embrace the vibrant colors and floral patterns of springtime. Opt for lightweight dresses, rompers, and onesies made from breathable fabrics. Add layers like cardigans or lightweight jackets for cooler mornings or evenings.
Summer: Keep your baby girl cool and comfortable in lightweight and breezy clothes. Choose sleeveless or short-sleeved tops, shorts, sundresses, and sun hats to protect her from the sun's rays. Look for UPF (Ultraviolet Protection Factor) clothing for added sun protection.
Fall: Transition into cooler weather by layering clothes. Choose long-sleeved tops, leggings, cozy sweaters, and lightweight jackets. Earthy tones and warm colors like mustard yellow or burnt orange are popular for fall outfits.
Winter: Bundle up your baby girl with warm and cozy clothes. Look for thick, insulated jackets, pants, and sweaters. Consider outfits with built-in mittens and footed sleepers to keep her warm in colder temperatures. Don't forget to add cute accessories like beanies and scarves.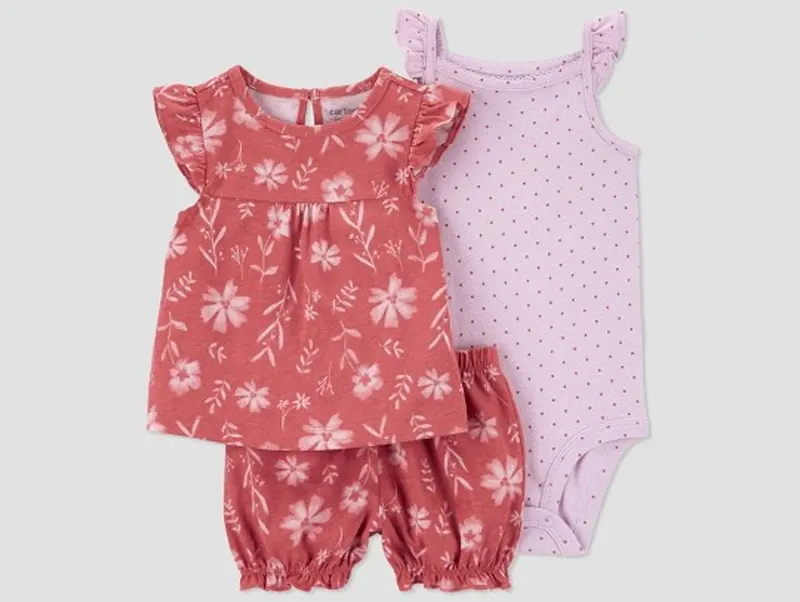 Sustainable Fashion Practices
Embrace sustainable fashion practices by choosing clothes that are designed to last. Look for durable stitching, reinforced knees, and adjustable waistbands that can accommodate growth spurts. Consider clothing brands that prioritize ethical manufacturing practices, fair trade, and reducing their environmental impact.
Extend the lifespan of baby girl clothes by donating or reselling them once your little one outgrows them. This helps reduce waste and allows other families to benefit from gently used items.
Online Shopping Tips
When shopping for baby girl clothes online, carefully read product descriptions, size charts, and customer reviews to ensure accurate sizing and quality.
Take advantage of virtual try-on tools or augmented reality features offered by some retailers to visualize how the clothes will look on your baby girl.
Subscribe to newsletters or follow social media accounts of your favorite baby clothing brands to stay updated on sales, discounts, and new arrivals.
Personal Expression and Comfort
While it's fun to dress up your baby girl, always prioritize her comfort and allow her to explore her personal style as she grows older. Consider involving your little one in the clothing selection process as she becomes more vocal and expressive. Let her choose between options you provide, encouraging her sense of autonomy.
Conclusion
Choosing the perfect baby girl clothes involves a combination of comfort, style, safety, sustainability, and budget considerations. By prioritizing your baby's comfort, selecting suitable outfits for different seasons and occasions, embracing sustainable fashion practices, and taking advantage of online shopping tips, you can curate a wardrobe that is both adorable and practical. Cherish these precious moments of dressing your baby girl and enjoy the journey of parenthood while embracing the joy that comes with choosing the perfect clothes for your little one.
Wholesale Clothes in Dubai
For those interested in purchasing baby girl clothes at wholesale prices, Dubai is a fantastic destination. The city is known for its vast selection of wholesale clothing shops, offering high-quality products at competitive prices. Wholesale clothes in Dubai can be found in various shopping centers and markets, making it easy to find stylish baby girl clothes without breaking the bank.
When it comes to purchasing baby girl clothes, Dubai offers a fantastic shopping experience. As one of the world's most popular shopping destinations, Dubai boasts large and diverse retail and wholesale outlets, making it an ideal place to buy clothes for your little one. With its modern vibe and stunning architectural beauty, the city provides access to renowned international and local brands.
Prominent shopping centers in Dubai offer a wide range of well-known brands. Here, you can find stylish and high-quality clothes for your baby girl. These stores typically carry reputable brands, allowing you to have a broad selection of trendy and beautiful clothes for your little one.
Additionally, Dubai has local markets and traditional souks that offer traditional and local attire. These markets provide an excellent opportunity to purchase unique clothing with local designs and handmade craftsmanship.
Wholesale stores offer an excellent opportunity to acquire high-quality clothes at affordable prices. MS MAX ACCESSORIES L.L.C is one of the reputable destinations in Dubai for bulk purchases of baby girl clothes. The store offers a wide range of baby clothes in various styles and designs. With an extensive selection available, you can easily curate an attractive and exclusive collection of clothes for your retail store.
Furthermore, MS MAX ACCESSORIES ensures high-quality standards for its customers. We use premium materials and soft, comfortable fabrics for crafting their clothes, providing optimal comfort for your baby girl. By purchasing in bulk from MS MAX ACCESSORIES, you can benefit from competitive prices and special discounts on clothing items. This allows you to boost your business while generating substantial income.
Showing 1–12 of 184 results
Ctn Q: 160

Age: 0-9 month

Number of models: 6