Showing 1–12 of 69 results
Age: +6 M

BPA %0

Number Of Models: 17

Age: +6 M

BPA %0

Number Of Models: 16

BPA %0

Capacity: 240ml

Ctn Q: 144

Machine-washable fabric seat Three height positions Requires two AA batteries For babies up to 25 pounds and 32 inches tall

size: Approx. 6cmx3.5cmx1.2c

Ctn Q: 100

24PCS

size: Approx. 6cmx3.5cmx1.2c

Ctn Q: 100

12PCS

Ctn Q: 240

Color: White

Age: One size
Neutral kids clothes in Dubai | Neutral baby clothes in Dubai
Gender neutral baby clothes
For babies, it is recommended to use neutral and nude colors. This statement has many scientific reasons, but here we want to talk more about its visual reasons and only talk a little about the scientific aspects of this discussion.
One of the most important reasons why you should not use colors like blue or pink as your baby's clothes is that despite the advanced technology and medical science, even today there is a possibility of mistakes in ultrasound. If you go and fill the entire baby's room with pink color or buy all the baby's clothes in blue and choose the same color for the walls and closet; When your child is born and her gender is a girl, you will not be able to change all the things you bought, and in this case, it will seem like you have wasted a large amount of your money. Ninety colors have no gender and are absolutely beautiful and stylish for both girls and boys and give a special and wonderful effect to the space.
Bright and neutral colors can make you feel clean. If you have paid attention to washing machine powder ads on TV, what is constant in all these ads, regardless of the type of washing machine powder and the people, are the colors they use. In all these advertisements, neutral colors are used.
Neutral colors do not have high energy and can give you the feeling of being still and stagnant. The use of neutral colors is very effective for a baby's room that does not intend to change the world and is content only with feeding and sleeping. Even these colors are suitable for all kinds of formal and stylish baby clothes for girls or boys, and you can rest assured that your beloved baby is dressed stylishly and beautifully.
Neutral colors are far from any stress and worry, far from uncontrollable human emotions and relieve the tension in the space. If you open your eyes in the morning and wake up in a red room and the whole wall is red, probably even if you love the color red, you will not be able to bear this scene and you will be tense and stressed. The reason for this is that the color red is extremely energetic and dynamic and can increase blood pressure. While the use of neutral and nude colors have the opposite effect on the body. If you open your eyes in the morning and the wall in front of you is white and there are milky or soft brown cabinets and a brown dressing table in front of you, you will probably feel alive more than anything. This effect is the same in children, and in fact, the wavelengths that we get from neutral colors have been formed in our minds since childhood.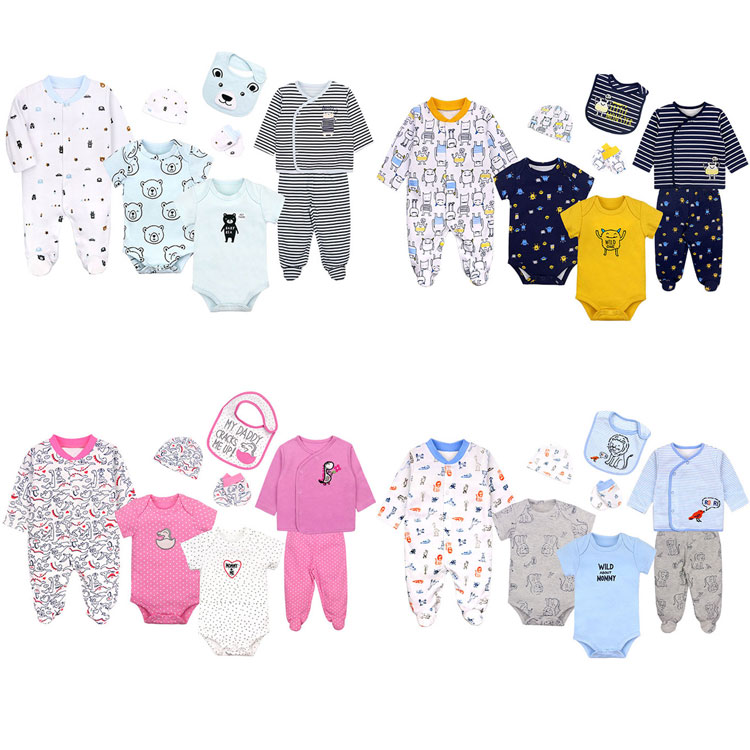 You can also choose neutral colors for children's winter clothes. Buying the latest knitting models and baby sweaters in neutral colors will be a stylish and beautiful choice for your child. Of course, you can get other types of winter clothes such as jackets, shirts and capes in the same color.
When the child opens his eyes, he only recognizes light for the first three months of life, and after that he can see green and red colors in a limited way. What we want is for the baby's eyes to develop naturally and not be damaged by nasty and overly energetic colors. The best thing to do is to use neutral colors for the baby's room so that the baby can get used to the low-energy colors first, and then your baby can choose the color he likes for his room when he reaches the right age. Colors are one of the first ways people communicate with their babies, so try to choose the best colors for your baby's clothes and bedroom so that your baby's mind develops in the best way.
Cute gender neutral baby clothes
When it comes to neutral clothes, most people say black and white! Dressing a baby in only black and white can be very borin , but mixing the two colors with other colors can make them attractive.
Examples of neutral colors are: brown, gray, cream, white and black.
You can combine primary colors such as red-white, or red-black to create a wide range of colors. Neutral clothes are very essential parts of children's wardrobe.
Neutral colors are attractive to parents because dressing a child in neutrals seems so simple and effortless.
White is a color that you can't go wrong with. White isn't technically a color, but white suits for girls offer a great combination while being completely neutral. The sky blue color choice is just as lovely on little girls as it is on boys.
And as for the popular colors; Colors that have become more popular in recent years are brown, gray, cream and navy.
Ivory is also a popular color for special occasions, but you can also add it to your child's everyday wardrobe.
The big advantage of dressing baby in ivory and cream is that it looks great.
Blue is a stereotypically boyish color, but we like to think of it as gender-neutral for baby clothes.
The sky blue color choice is just as cute on little girls as it is on boys.
Colors play a very important role in your child's mood, productivity, behavior and overall aesthetic. Newborn babies can primarily see neutral shades such as black, gray and white.
Therefore, clothes in solid and neutral colors, and rooms full of contrasting shapes and patterns, offer the best kind of visual stimulation to newborn babies.
Cute neutral baby clothes
What is the psychological effect of each color on the child?
Red: represents passion, excitement and emotion. Red is bold and attracts a lot of attention. Red is the warmest color and may bring unstable personality traits to the fore.
Blue: It is healing, gentle and relaxing, but be careful when choosing it for a dress because gray-blue can lean towards sadness. Blue increases productivity, but should not be used around food. If you have a child who refuses to eat, avoid blue plates! Blue is also cooling, which is good for a baby who overheats easily.
Orange: warm and comfortable. Orange is a very comfortable color. Orange is friendly. Dark orange is used for a super cozy space and lighter orange for a modern space!
Yellow: This color is lively, energetic and happy, but use it with caution. Too much yellow, or too bright, can irritate the child. Soft yellow strengthens concentration and emotional thoughts.
Green: Calming and refreshing. It causes relaxation, thinking and concentration. It is also very natural. Green is the best color to use in an educational environment and one of the best colors in decoration because it is so abundant in nature. You can't go wrong with this color!
Purple: dignified, mysterious and luxurious. Purple has long been associated with royalty and continues to do so. The purple color of the jewel is as regal as it looks. Purple is rare in nature, so it is considered the most unnatural color.
White: White color is a sign of cleanliness, purity and innocence. Be careful in choosing white color for baby clothes, this color is prone to stains and gets dirty very quickly.
Cheap neutral baby clothes
Keep in mind that brands are competing with each other and every day new equipment comes to the market, and this work has no benefit for you except waste of money. It is better to manage your expenses and prepare baby clothes according to your baby's needs. After making the list, prioritize some items for which you have budgeted a lot. Get high quality toiletries and clothes. Contact the consultants and experts of our site (reemavision.com) and ask them for advice. Never sacrifice quality for price. Neutral colors include soft colors with a colorless nature that are commonly used in the background. White, black, gray, gray, silver, milky and even cream are also known as neutral colors. The use of neutral colors alone for children's clothes is not recommended at all.
Instead, combining this group of colors with warm and cold colors can be a good option in choosing the color of your beloved child's clothes. For example, one of the attractive styles for children is to use clothes with a dominant neutral color and colorful accessories.
If you want to have a safe and first-class purchase and always have your clothing boutique full of quality materials, be sure to test Ms Max Accessories even once.
Wholesale neutral baby clothes, in Oman Wholesale gender neutral baby clothes in Dubai
The most important factor to consider when buying bulk baby clothes is comfort. If the baby feels itchy or irritated because of the clothes he is wearing, he will let you know by crying - the material of the clothes should be soft, breathable and should never irritate any part of the baby's body. Here are some other things to consider before buying wholesale baby clothes:
Sizing: Remember that not all baby clothing brands are the same size; Some of them are small in size while others are relatively large. Before ordering items in bulk from the store, make sure your child has tried on at least one piece to find out what size is best for them.
Ease of use: In other words, how easy is the garment to put on and take off? Remember how many diapers you usually change in a day. If it takes a few minutes to remove an item of clothing, that time adds up – and your child may not be patient!
Safety: Avoid purchasing any items that could pose a choking hazard (buttons, easily removable flowers or bows, hooks, drawstrings, etc.).
Style: Last, but certainly not least, you have to love the baby clothes you buy! Style is important, especially since you'll be taking lots of pictures of your lover in these clothes for the next few months.
Because the options are seemingly endless, Ms Max Accessories Store shares the best brands of baby clothing, where you can find all kinds of bodysuits, pajamas, baby socks and other baby accessories. All of you, dear clothing sellers, can buy all kinds of clothes you need in a variety of sizes and best-selling colors from Ms Max accessories wholesale store in Dubai and Reem alkhaleej in Oman in person or online. It should be noted that our store has more than 10 years of experience in distributing all products. offers with a guaranteed price and sale, and you will be able to return the product if you are unable to sell it.